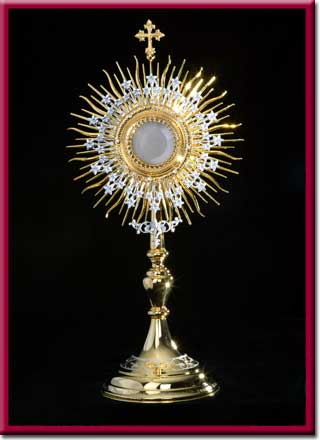 Holy Eucharist in Monstrance
This week the Church celebrated the feast of Corpus Christi. In many countries it's celebrated on Thursday in commemoration of the Last Supper, but here in the United States we celebrate the feast on Sunday with processions and lots of pomp and circumstance as befits the King of Kings.
St. Teresa of Avila reflected on the presence of Christ in the Holy Eucharist in her usual simple but profound way:
How would I, a poor sinner, who have so often offended You, dare to approach You, O Lord, if I beheld You in all Your Majesty? Under the appearances of bread, however, it is easy to approach You, for if a king disguises himself, it seems as if we do not have to talk to him with so much circumspection and ceremony.

If You were not hidden, O Lord, who would dare to approach You with such coldness, so unworthily, and with so many imperfections?

Besides, I cannot doubt at all about Your real presence in the Eucharist. You have given me such a lively faith that, when I hear others say they wish they had been living when You were on earth, I laugh to myself, for I know that I possess You as truly in the Blessed Sacrament as people did then, and I wonder what more anyone could possibly want" (T.J. Life, 38-cf. Way, 34).
St. Teresa reminds me that I should get rid of the "gimmies" and make Jesus be enough.